The administration of US President-elect Joe Biden has no intention of immediately lifting the USA's entry ban on travellers arriving from certain coronavirus-affected countries.
In a statement on Twitter on 18 January, incoming presidential press spokesperson Jen Psaki says the new administration, set to be sworn into office on 20 January, will not carry out the current administration's plan to relax the order for high-risk countries on 26 January, a move that had been announced by the team of current president Donald Trump earlier in the day.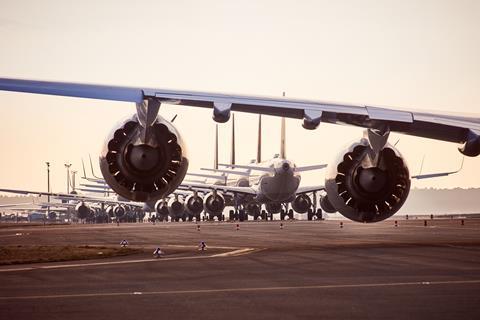 "With the pandemic worsening, and more contagious variants emerging around the world, this is not the time to be lifting restrictions on international travel," Jen Psaki writes on Twitter.
"On the advice of our medical team, the administration does not intend to lift these restrictions on 1/26. In fact, we plan to strengthen public health measures around international travel in order to further mitigate the spread of Covid-19."
She did not say what those stronger public health measures would be.
On 18 January, Donald Trump's government had announced it would lift the entry ban for non-citizens and non-permanent residents from Europe and Brazil, but that restrictions on travellers from China and Iran would remain.
The entry ban for European citizens who are not permanent US residents has been in place since mid-March, and those from Brazil have been prevented from arriving in the USA since May. Chinese and Iranian citizens have been blocked from entering the country since January and February, respectively.
The travel restrictions and pandemic have reduced international passenger air traffic to a fraction of what it had been just months earlier. During the course of 2020, some airlines said they had cut international capacity to as little as 10% of what it had been in 2019. That slump in demand is expected to continue into the first quarter of 2021.
The current administration's plan had been to relax the restrictions in conjunction with a new coronavirus testing regime that is also set to take effect on 26 January. 
Last week the US government imposed a new rule that will require inbound international air travellers to provide a negative coronavirus test result that is less than 72h old before entering the country. Airlines are to be made responsible for ensuring that each passenger has either paper or electronic proof of the negative result prior to boarding aircraft bound for the USA.
For months, airlines have called for a testing requirement that would better protect crews and other passengers, at least until a vaccine is readily available and a wide swath of the population is inoculated.
US airline trade group Airlines for America (A4A), which represents most major US passenger carriers, said at the time that it appreciated the CDC's recommendation to implement a pre-departure testing programme and called on the government to relax other entry requirements in return.
The organisation did not immediately respond to a request for comment following the new developments.
The travel entry ban has effectively cut off most foreign tourist activity into the USA, including from countries such as Germany, France, China, Brazil and the UK, which are among the top nationalities of foreign travellers into the USA. In 2019, these five countries alone accounted for more than 14 million visitors, according to the US government's National Travel and Tourism Office. 
However, an unintended consequence of the limitation is that it has also disrupted the lives of bi-national partnerships, with some families having been separated for a year or more by the travel restrictions, with no end in sight.