Box Score (.pdf) | Full gamebook (.pdf) | Multimedia | Photo Gallery | Postgame Notes
THE FLATS – Michael Devoe, Moses Wright and Jordan Usher combined to score 64 of Georgia Tech's 83 points and led the Yellow Jackets to their fifth-consecutive win, an 83-65 victory over No. 20/22 Clemson on Wednesday night at McCamish Pavilion.
The Jackets shot 57.4 percent overall from the field (31-of-54) and 61.5 percent on 3-point attempts (16-of-26) in the win. The six 3-pointers were a McCamish Pavilion record, topping the 14 made by Syracuse last season, and just one shy of Georgia Tech's school record of 17, set at Clemson in 2001.
The red-hot shooting was highlighted by Devoe, who was a perfect 6-for-6 from beyond the arc en route to a game-high 22-points. His six 3-pointers were the most by a Yellow Jacket without a miss were a school record, topping the previous mark of 5-for-5 set by Tony Akins against Davidson in 2001. Wright scored 17 in the first half on his way to a 21-point performance, his fifth game with at least 20 points this season. Usher drained five triples while also tallying 21 points, which set a new personal Georgia Tech career high.
Georgia Tech (7-3, 3-1 ACC) used a 20-7 run late in the first half to turn a 23-21 deficit into a 41-30 lead. The Jackets never trailed again, as they took a nine-point lead (45-36) into halftime and stretched the advantage to as many as 22 points (68-46) in the second half.
In addition to the shooting clinic, the Yellow Jackets also used some stifling defense to run past Clemson (9-3, 3-3 ACC). Tech forced 20 turnovers and scored 30 points off of the Tigers' miscues. The Jackets had 11 steals, led by Jose Alvarado's and Devoe's game-high four apiece. Devoe also led all players with six assists.
Winners of seven of their last eight games overall, the Yellow Jackets will face their stiffest test of the season to date on Saturday when they travel to Charlottesville, Va., to take on No. 13/12 Virginia. Tip-off is slotted for 8 p.m. and the game will be televised nationally on the ACC Network.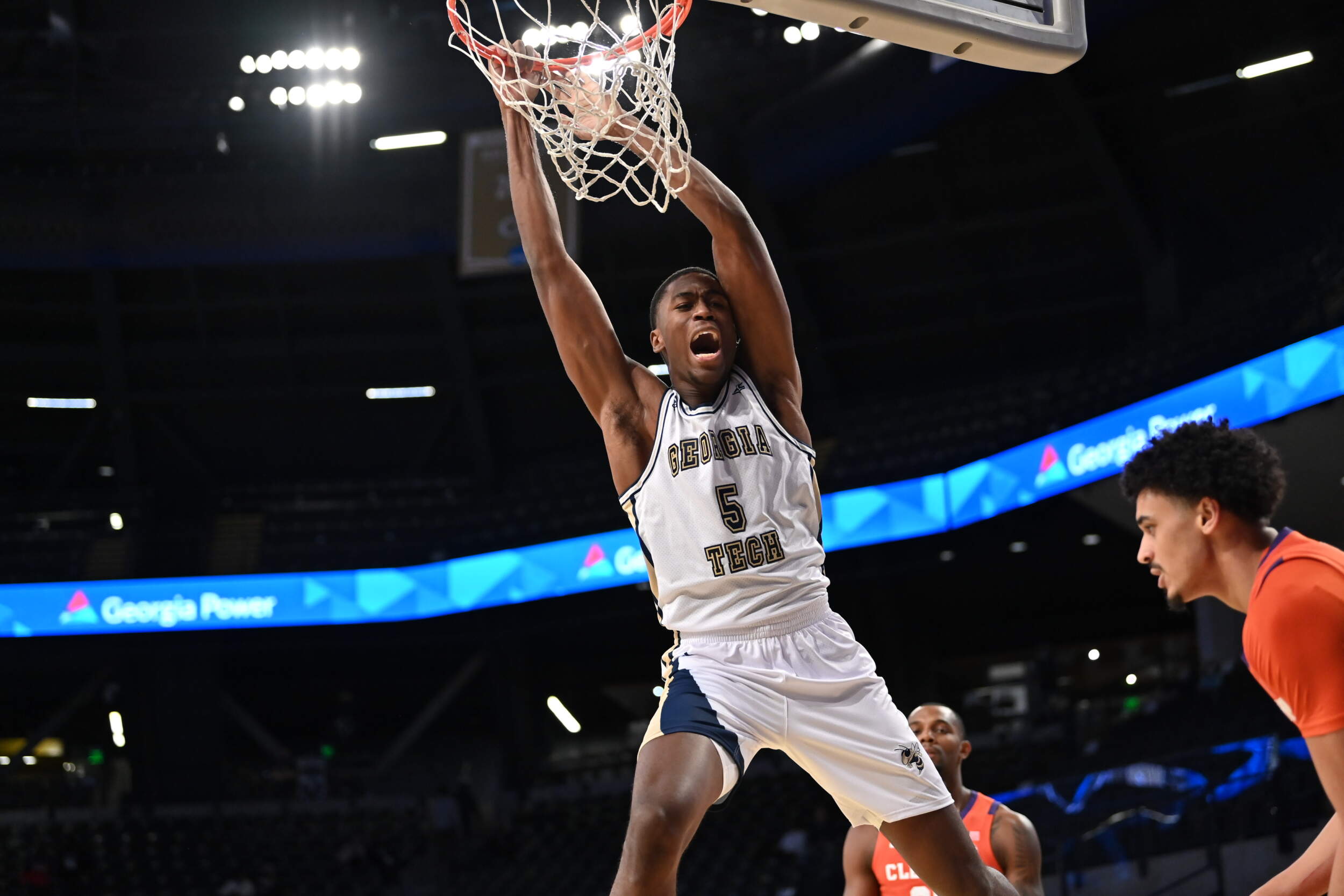 Moses Wright scored 21 points, marking the fifth time this season he has eclipsed the 20-point mark. (photo by Danny Karnik)
Post-Game Notes
TEAM NOTES
Head coach Josh Pastner's Georgia Tech teams are 6-13 against top-25 teams (6-5 at home).
Tech won its fifth consecutive game, its longest winning streak since the 2012-13 season (won six straight in December of that season).
Tech is off to its first 3-1 start in the ACC since the 2017-18 season.
Tech won its third straight meeting in the series with Clemson and has won seven of the last 12.
Tech's 83 points were its most against Clemson since 3/12/2009 (an 86-81 win in the ACC Tournament), and the 18-point margin of victory the most since a 79-60 win at Clemson on 2/28/2004.
Tech's 16 three-point field goals set a McCamish Pavilion record and were one off the program record of 17 set in a 111-108 win at Clemson on 1/24/2001. The previous mark for threes in a game at McCamish Pavilion was 14 by Syracuse on Dec. 7, 2019 (last season). Tech's previous high in the building was 12 vs. Lamar on 11/9/2018.
Despite the 17-day break between games, Tech picked up where it left off in its ball security, committing just 10 turnovers and forcing 20 from Clemson, and scoring 30 points off the Tiger miscues. Tech has forced 135 turnovers over its past eight games and scored 164 points from them, including 56 turnovers for 85 points from North Carolina, Wake Forest and Clemson combined.
The Jackets have forced 16.5 turnovers per game for the season, while committing just 12 per game. Tech came into the Clemson with third-best turnover margin and the fourth-best assist/turnover ratio in the ACC. In conference games, Tech's turnover margin is plus-5.0, which leads the ACC.
For the seventh time in its last eight games, Tech won the turnover battle and had more assists than turnovers. Only against Florida State (11 assists, 12 turnovers, FSU has 12 turnovers) did the Jackets fall short.
Tech entered the Clemson game leading the ACC in scoring at 80.11 points per game, and scored 83 against the nation's eighth-best defensive efficiency team, according to KenPom.com. It was only the sixth time the Jackets have reached 80 points against an ACC team under head coach Josh Pastner.
Tech has connected on 53 of its 119 three-point attempts in its last five games (44.5 percent) and is up to 36.9 percent for the season, 42.6 percent in ACC games. The Jackets are averaging 8.9 made threes per game (3.7 per game more than they made in 2019-20), and are averaging 10.0 threes in ACC games.
Tech's 57.4-percent accuracy from the field and 61.5 percent from behind the arc against Clemson were far-and-away season highs for the Yellow Jackets. Tech did not come close to either mark in a game last season.
Since going to its smaller lineup, Tech has had just nine shots blocked in its last eight games. The Yellow Jackets had 13 shots blocked in their two season-opening losses.
Tech has collected 11 steals in each of its last three games and is averaging an ACC-high 10.0 in conference games. The Jackets are averaging 9.3 in all games, tied with NC State for the top spot in the conference.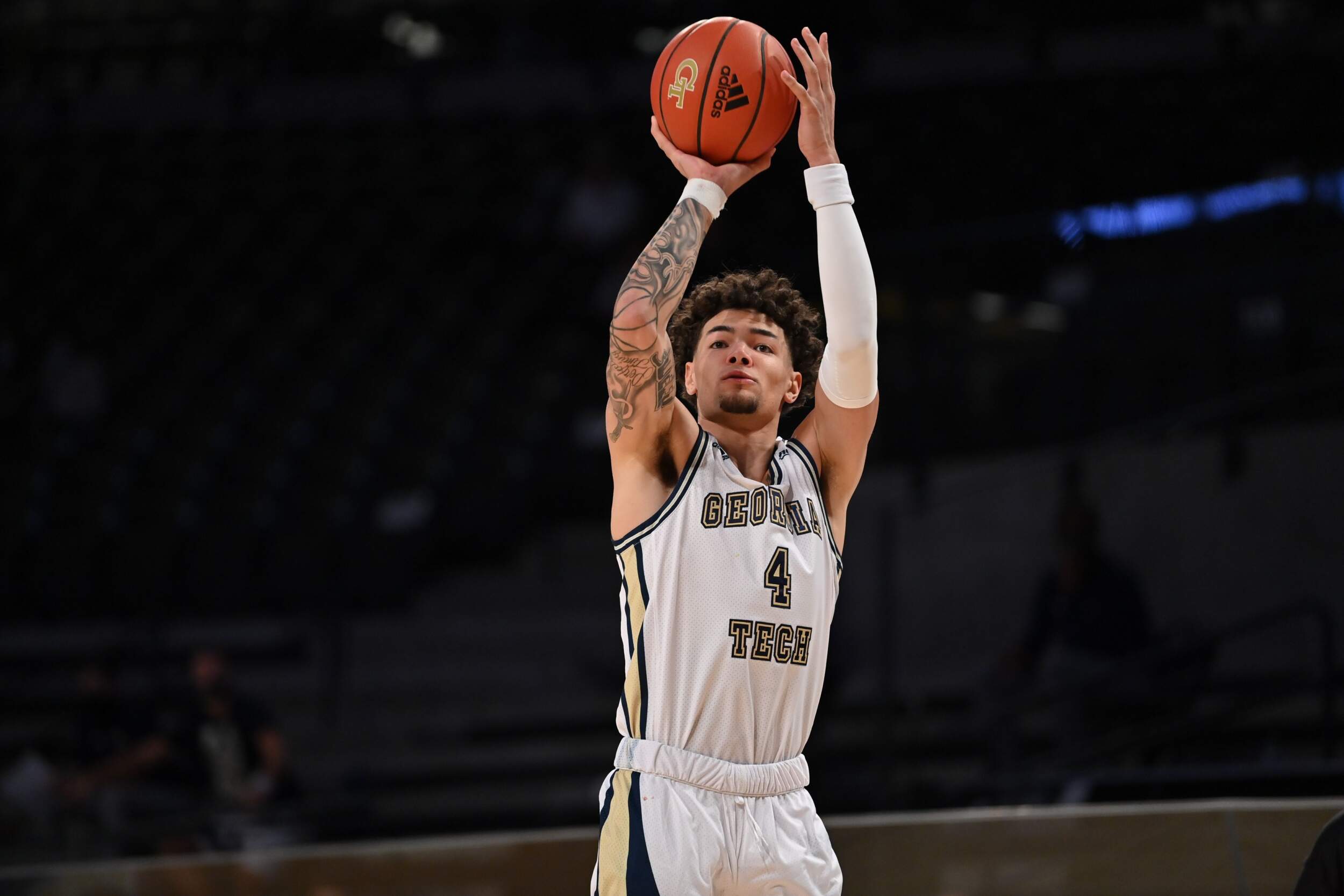 Jordan Usher's 21 points were a Georgia Tech career high. (photo by Danny Karnik)
Post-Game Press Conference
Head Coach Josh Pastner
Junior guard Michael Devoe
Senior forward Jordan Usher