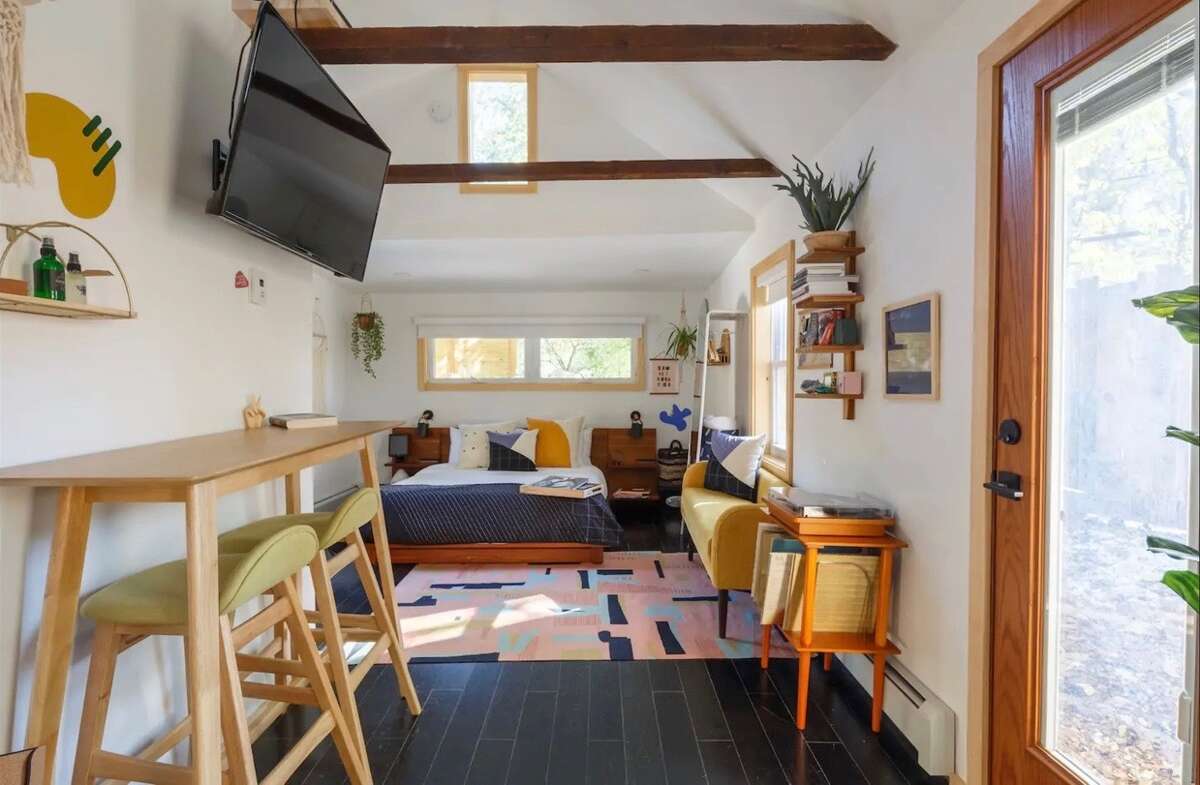 Woodstock's Herwood Inn has four suites named after female rock legends, and all rooms have their own private entryways.
Courtesy of Herwood Inn
Do you like female-fronted classic rock, crystals, and hot tubs? If so, Woodstock's Herwood Inn is the lodging of your dreams. Here, the four sustainably minded suites are named for Carole King, Aretha Franklin, Joni Mitchell, and Stevie Nicks.
Each has its own private entryway, plus a record player, curated vinyl library, and zodiac crystal to channel the power of its namesake. The newlywed proprietresses Em Atkins & June Peterson poured lots of good juju into each room, and they also made the spaces extremely practical, with a small yet efficient kitchen in each suite.
They've taken all the necessary coronavirus precautions and provide guests with a hefty list of safe eateries, adventures, and shops around Woodstock. The Herwood's communal outdoor area, equipped with a cedar hot tub and fire pit, are available to socially distanced guests on a first-come, first-serve basis.
Winter Travel Tip: If you're bundled up for a walk down Tinker Street, look for a little walking path across the street from Woodstock Photography Center called Cupcake Lane, and make your way toward classic rock-inspired cupcakes and crave-worthy Hippie Chipper cookies at Peace Love and Cupcakes.
148 Tinker Street, Woodstock, NY; Ulster County, Catskills; (no phone)
Approximately 100 miles from Times Square NYC; 10 miles from Kingston; 50 miles from Albany