In 1999, the Bozeman Yellowstone International Airport served about 222,000 passengers and had service to four direct destinations: Seattle, Salt Lake City, Minneapolis and Butte.
Two decades later, the airport, known by the abbreviation BZN, flew more than 788,000 people to more than 20 — and now more — direct destinations, including New York City, Los Angeles, Chicago and Detroit. The airport also has a $26.5 million second concourse that almost doubled its physical size, more than 1,000 employees and the achievement of being Montana's busiest airport.
But none of that happened overnight, said Airport Director Brian Sprenger. It didn't even happen in the past decade.
"It's a long success story that just didn't happen in the last couple of years," Sprenger said. "It's really a continuous progression."
In 2020, passenger numbers were down more than 20% from the record numbers the airport recorded in 2019, with 443,466 deboardings compared to 788,152 the previous year, according to data from the University of Montana's Institute of Tourism and Recreation Research. Prior to 2020, the airport had a full decade of record years, with 2019's passenger total being the highest in BZN history.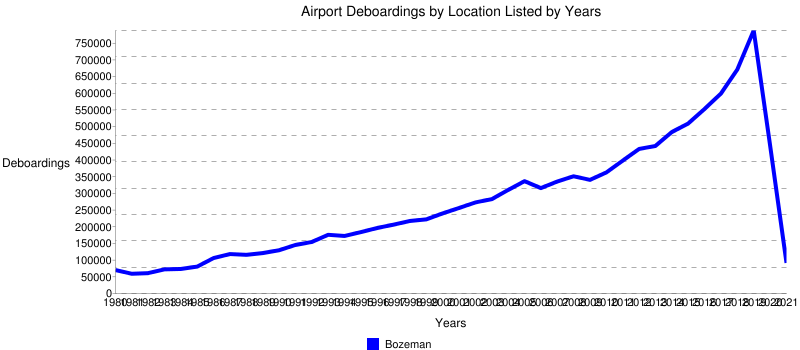 But even through the pandemic, the ensuing travel restrictions and economic recession, BZN was still seeing a smaller decrease in travelers compared to years prior than many others airports across the nation.
The No. 1 reason for that is that people just like Bozeman — especially as a more remote place during the spread of a virus that makes crowds dangerous.
"We're where people want to be," Sprenger said. "People, if they're going to travel right now, feel much more comfortable traveling to a destination that is not crowded with people."
Like everything, passenger numbers are relative, Sprenger said. Airports in major cities may have a lower percentage of normal travel, but could have far more passengers than BZN. The relative remoteness of Bozeman factors into the airport's success in 2020 in other ways, too. For local people to get to a major city, it's often a much shorter trip flying than driving.
"We're the only state in the continental United States that you have to go over or through another state to get to a state with a city of a million or more," he said.
Sprenger said he attributes the success of the Bozeman airport compared to other airports in similar-sized cities to four major pillars: Yellowstone National Park for summer traffic, Big Sky Resort for winter traffic, and Montana State University and the Bozeman community.
Other cities have universities, summer tourism hubs or strong business communities — but having all four props up the airport in a consistent way, Sprenger said.
"It's not, obviously, just the airport, but it's the combination of all those things that the dynamics really take off." he said. "We're seeing the result of that now."
The Seifert Airport was the first airport in Belgrade, built in 1928 and relocated in 1929, according to the airport's history page. The small facility and landing strip grew and changed over the next several decades, including a new terminal and other construction and a name change to Gallatin Field.
The 1970s is when the growth of the airport as we know it today really began to take off, Sprenger said.
In 1973, enplanements — or how many passengers boarded a plane at the airport — surpassed 25,000 for the first time. Three years later, that record doubled, with more than 50,000 enplanements. More commercial flights began flying passengers in and out of Bozeman and a new terminal building opened to help accommodate the growth.
By 1985, enplanements were more than 75,000 people each year. The airport continued to hit milestones throughout the 1990s, despite several airlines declaring bankruptcy or otherwise ending or reducing service to BZN in the 80s and 90s.
According to data kept by the airport, BZN has had fewer than half a dozen years since 1982 when passenger numbers were lower than the year prior. There was usually a clear reason for a dip in traffic. For example, there was a significant drop in 1988 — the year of the massive fires in Yellowstone National Park that burned more a third of the park.
In 2009, following the Great Recession, the BZN airport — and airports nationally — again saw a dip in passenger numbers. But BZN and the almost 500 other commercial airports in the United States bounced back strong.
Nationwide, those commercial airports combined employed 11.5 million people with an annual payroll of $429 billion prior to the pandemic, according to a 2018 Airports Council Economic Impact Study conducted by Airports Council International North America.
The annual economic output of the nation's airports was $1.4 trillion in 2017. Montana's 12 commercial airports contributed $3.2 billion to the total, employed 30,000 people, and had a payroll of more than $1.1 billion.
Payroll is an important piece of the airport equation — it can contribute to economic multiplier impacts. Airport employees get their paychecks and spend the money they earn on things rent or mortgage, food, services and entertainment. The restaurant or movie theater that an airport employee went to then spends that money on its payroll and other expenses like utilities, which circulates through the local economy.
While it's called the Bozeman airport, BZN is actually closer to Belgrade and shares sewer and water infrastructure with that city. Belgrade City Planner Jason Karp said that means the airport has a major impact on Belgrade's economy.
"The airport and airport-related businesses are a huge employment base for us," Karp said. "They're a huge job creator, and lots of Belgrade citizens work over there."
Growth in businesses around the airport, like the recently-opened gas station that's part of the Yellowstone Airport Plaza, also aim to capture some of the dollars from both locals and visitors.
"Everybody walking out of that airport and getting into a rental car and driving through Belgrade, those are a lot of dollar bills going by," Karp said. "The business community is interested in trying to capture some of those dollar bills. It's the same with I-90 going through the valley."
The airport plaza is planned to have a hotel and sites for restaurants and other businesses, including a potential for workforce housing.
Belgrade recently adopted a downtown plan to freshen the small city's downtown and even create infrastructure for pedestrians to get to and from the airport and Belgrade. The improvements could benefit travelers, but could also be helpful to airport employees living in Belgrade who walk or bike to work.
"I think there's a lot of win-win between the city and the airport, with the sharing of our infrastructure," Karp said. "I think it's definitely a two way street. The airport benefits from Belgrade, and Belgrade benefits from the airport."
Tourists, business travelers and all the in-betweens
A growing airport, among other economic impacts, brings people — and their wallets — to Bozeman and the surrounding area, said Carly Urban, who holds a doctorate in economics.
"We have this airport that continues to grow and connect Bozeman to cities across the country, we're seeing more and more of these direct flights popping up," said Urban, an associate professor at MSU and a research fellow at the Institute for the Study of Labor. "That just allows more tourists to come in and spend a bunch more money locally and support our economy, which is driven by tourism in a lot of ways. The more people that are here, the more people that are spending here."
Sprenger estimated that, on average, each passenger that flies into Bozeman has about an $800 economic impact to southwest Montana. But not all travelers behave the same, Urban said.
People traveling for business tend to have spending habits similar to short-term residents than those of tourists, spending their money at restaurants and grocery stores but less on recreation or retail. People visiting on leisure trips often spend more money in gift shops and on recreation activities like guided tours.
Individuals traveling for business-related trips with a lot of spare time, like workshops or conferences, and in industries where employees earn higher incomes, like the medical field, tend to spend money like a fusion of people traveling for business and those traveling for pleasure.
"We kind of think about that as having a multiplier, where there's more people coming from outside, they tip their waitress more, and then (the waitress) can tip their hairdresser more, and then it just keeps flowing," Urban said.
While travelers are good for the overall economy, there's a chance it could stress the housing market further, Urban said.
"More tourists means there's more incentive to have your house, or part of your house, become an Airbnb or VRBO," she said. "Even though there's more money in people's pockets, potentially, housing could also become even less affordable."
The airport lost more than 90% of its travel early in the pandemic, but its traveler numbers bounced back quicker and stronger than the national average. So far in 2021, the airport's traffic has been rebounding at a rate that Sprenger said is a good sign.
"What we are currently expecting is that for 2021, we will probably exceed 2019 numbers," he said. "We believe we will be real close, if not surpassing the record level in 2019."
"For a long time, when people would ask me 'when is Southwest going to come to Bozeman,' I would say, we need to grow a lot," Sprenger said.
The "magic threshold" that Sprenger said the airport set for the potential arrival of Southwest was ranking in the top 100 airports nationally. In 2008, it was ranked 141.
In 2019, BZN was ranked at 108 in nation for top airports. When people asked Sprenger when Southwest would arrive, he'd say "we're getting closer."
And in November 2020, even during the pandemic, BZN was ranked as the 98th best airport in the nation.
"It was ironic that that was about the time that we started getting into more discussions with Southwest," Sprenger said. "We had to grow, and they had to have a business plan that allowed us to be part of it. And that's what happened in the last six to nine months as they started to shift their business plan and, comparatively, we were performing better than a lot of airports."
More than anything else, Sprenger said, it's those four pillars: people want to visit Yellowstone, ski at Big Sky, send their kids to MSU and see what Bozeman is all about.
"A lot of other airports have also had success," he said. "We've just seen very consistent, strong growth over time."