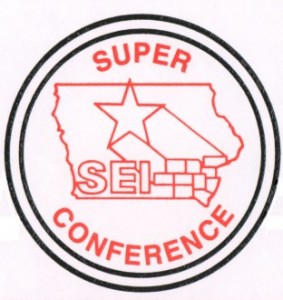 The Southeast Iowa Superconference Shoot Out is here for area girls teams. The annual event happens at the end of the conference season for both boys and girls squads where teams are paired together based on their finish in the north and south division standings for one contest.
The defacto championship game features the winners of the south division West Burlington and north division champions Winfield-Mt. Union. The Lady Wolves come into the game unbeaten on the year at 16-0 and a perfect 10-0 in the SEISC. The Wolves are ranked No. 9 in the latest poll from the Iowa Girls High School Athletic Union. In their last game they got by Louisa-Muscatine 44-43 with Farrah Nelson's 11 point 10 rebound double double. On the season, WMU is led by Bradie Buffington at nine points per game, Nelson's seven boards per contest, and Kyndal Townsley's three assists and two steals per night. West Burlington is 17-1 overall, 14-1 in the Superconference. They beat Cardinal on Tuesday 79-38. On the season, the Falcons are led by Sydney Marlow at 14 points, seven rebounds, five steals and four assists per game. These teams last met a season ago with the Falcons taking a 68-25 win. The Wolves and Falcons will tip at 7:30p.m. at West Burlington High School.
The WACO Warriors travel to Central Lee tonight for a neutral site game with the Pekin Panthers. The Warriors finished fifth in the Superconference South with a 6-7 mark in league play and 7-11 overall record. WACO beat Danville Tuesday 49-41. On the season, the Warriors are paced by sophomore Eliah Kissell at 14 points per game. Grace Coble has seven rebounds per night and Aubri Garnsey has a team best three assists and three steals per night. Pekin comes in after finishing fifth in the north with a 3-5 conference mark and 8-9 overall record. The Panthers have been off since January 28th when they beat Davis County 40-39 with Kaylee Peiffer scoring 12. On the season, Pekin is led by Kerrigan Pope at 16 points and eight rebounds per game. Sophie Wittrock has five steals and two assists per game. The Panthers and Warriors will jump it up at 6p.m. at Central Lee High School tonight.
A pair of area schools will make the trip to Danville Friday for their Superconference Shootout contests. In game one of a doubleheader Highland will meet Holy Trinity Catholic. Both teams finished in seventh in their division of the Superconference with the Huskies in the north at 1-8 in conference play at 2-11 overall and the Crusaders 4-12 in league play at 5-16 overall. The Huskies beat Lone Tree Wednesday 58-38 behind a double double from Dani Laughlin 23 points and 11 rebounds, 13 points from Abbi Stransky and 12 from Jenna Sands. On the season the Huskies are led by Laughlin's 14 points and four steals per game. Sarah Burton pulls down a team best eight boards per night and Abbi Stransky averages three assists per game. Holy Trinity's last game was a loss to No. 10 Burlington Notre Dame 70-28 Tuesday. Kassi Randolph leads the Crusaders with eight points and five rebounds per game. These two teams last met in 2019 with Holy Trinity scoring a 53-31 win.
In the nightcap at Danville it will be the Lone Tree Lady Lions taking on the Bears on their home floor. Each team finished in sixth place in their division of the Superconference with the Lions 3-11 overall and 2-6 in conference and the Bears 6-12 overall and 5-9 in the Superconference. Lone Tree was beaten by Highland Wednesday 58-38. Maddie Jacque leads Lone Tree at 13 points and four steals per game. Kasey Chown has a team best 10 boards per game. Maddie McCullough averages two assists. Danville was beaten by WACO Tuesday 49-41 with Ava Smith scoring 13 points. On the year, the Bears are led by Drew Fox at 10 points and eight boards per night. Smith averages three assists and three steals per game. Tip for the Lions and Bears is set for 7:30p.m.