Prime Minister Scott Morrison has welcomed NSW's plan to scrap home and hotel quarantine for fully vaccinated overseas arrivals from November 1 but said this is "about Australian residents and citizens first", not tourists.
"I'm very pleased that the NSW government has advised …that they will be in a position to move to a no quarantine arrangement for people arriving back in Australia from the 1st of November," Mr Morrison said.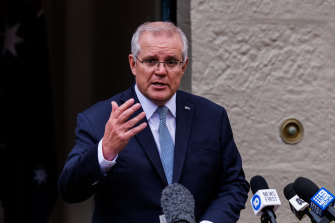 The change "enables us to be in a position to ensure that we can lift the caps for returning Australian citizens, residents and their families from the 1st of November into NSW", Mr Morrison said.
"What this also means is we will be allowing Australians, permanent residents and citizens and their families, to leave Australia from wherever they live in Australia and return, but obviously the capped arrangements in other states will continue because of the vaccination levels in those states and territories."
"The federal government is not opening … up to anything other than Australian citizens and residents and their immediate families. That is what will happen from the 1st of November in NSW, and indeed all around the country for Australians departing. To return to Australia, obviously they'd have to do that through Sydney or under the capped arrangements in other states and territories."
Mr Morrison said "the Commonwealth government has made no decision to allow other visa holders, student visa holders, international visitors … to come to Australia under these arrangements".
"They are decisions for the Commonwealth government and when we are in a position to make that decision down the track, obviously in NSW, they will be able to do so if they are vaccinated without having to quarantine."
NSW Premier Dominic Perrottet said earlier this morning that hotel quarantine would be a "thing of the past" from November 1 for fully vaccinated returning Australians as well as tourists. He said NSW would get tourists back as quickly as possible but "returning Australians will naturally be the first cab off the rank".
Under the NSW plan, people will be required to take a COVID-19 test before boarding a flight and show proof of full vaccination. The state government said in a press release that "further advice about testing requirements for arrivals will be provided in the coming days".
Asked if Mr Perrottet had consulted him about NSW's changes, Mr Morrison said "the premier and I, and indeed prior to him becoming Premier in earlier discussions with ministers in the NSW government, this has been a topic of discussion for some time."
Loading
"I welcome the announcement today that is consistent with the advice I have had from my own Chief Medical Officer and we're looking forward to those arrangements coming into place."
Mr Morrison said NSW had confirmed 210 unvaccinated people will be allowed in each week.
"Earlier this week, I wrote to all the premiers and chief ministers and asked them to advise me of where they are up to when it came to home quarantine, which would enable Australia to move to the next phase, more broadly, that would allow Australians to travel overseas and return if they are vaccinated, and to return, to return vaccinated, with no caps on their return," he said.
He said it won't be open slather for everyone in the world to come to Australia and the Commonwealth would stick to its plan of allowing travel only by Australian residents and their families first.
"We are not opening up to everyone coming back to Australia at the moment. I want to be clear about that," he said.
"In the first instance, it will be for Australian residents and their families. We will see how that goes and then we will [look] to other priorities set out as being skilled migration as well as [getting international] students to Australia and then we will move on to the challenge of dealing with international visitors to Australia."
The federal national security committee tweaked the rules earlier this week to classify overseas parents of Australians as "immediate family", meaning they will qualify for travel exemptions under the restrictions.
This comes after a long community campaign for the change.
The decision to classify parents overseas as immediate family has been made, but it won't come into effect until November 1 when the other travel changes take place.