Incidents in neighbouring Wyre were reported four times a day on average, and reports came in twice a day in Fylde during the same period.
Last weekend saw long queues of cars waiting to responsibly dispose of rubbish at Bristol Avenue tip in Bispham – as fly-tipping numbers fell by 249 in the borough compared with 2018/19.
But one offender was taken to court by Blackpool Council last year, at a cost of £150, and was given an £80 fine.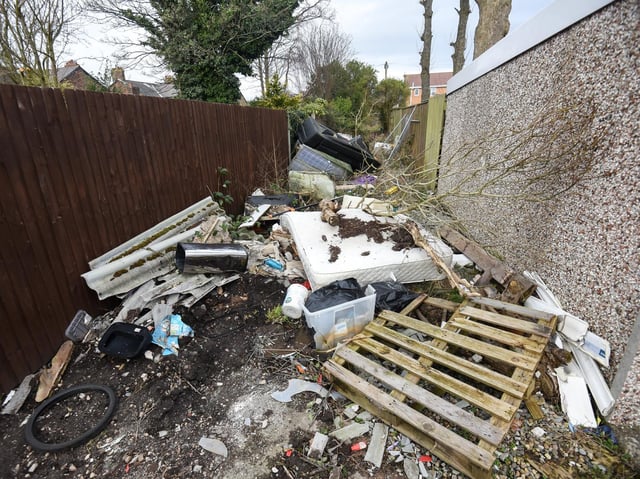 Fly tipping in Thornton.
Long queues for Bristol Avenue tip highlighted resort residents' responsible actions, Councillor Tony Williams, leader of the Conservatives at Blackpool Council, said.
"It's encouraging to see that the number of fly tipping incidents is reducing but it's still high," Coun Williams added.
"I think Blackpool residents are becoming more responsible when it comes to disposing of their unwanted rubbish but rogue traders are still trying to save a few pounds by illegally tipping debris from their work on our streets and green spaces.
"Council officers have been vigilant in bringing these offender to court and some hefty fines have been given out. Also, there are more resident CCTV cameras and video door bells in our neighbourhoods, so any blatant fly tippers are more easily caught in the act.
"I do think Blackpool needs an extra recycling station in the south end of town. It's along way to travel from places like Squires Gate to Bristol Avenue tip to dispose of small amounts of rubbish, so obviously the temptation is there to get rid of it on the way.
"Maybe the council could introduce 'amnesty days' for certain types of traders or review their off-peak charges to encourage more people to tip rather than dump."
Coun Jim Hobson, cabinet member for Climate Change and Environment at Blackpool Council, added: "We've had a really busy weekend down at Bristol Avenue tip. The good weather has obviously inspired a lot of people to have a spring clean and clear out.
"We would always expect it to be busy at this time of year but the Covid safety measures that we've put in place have led to longer queues than normal.
"On behalf of the staff down at the site I'd like to thank residents for their patience. Everyone using the tip this weekend has been good-natured and appreciated that they may have to wait a little longer than normal while we have reduced capacity.
"The tip team has done a great job and have been walking down the queue to keep people updated and even stayed open later on Sunday to make sure no-one left with waste still in their car.
"There is never an excuse for fly-tipping. For people without cars we have Rover, our mobile recycling unit, travelling across the town five days a week.
"Fly-tipping in back alleys can be anything from one black bin bag to a whole van of dumped waste. Whatever the size it is illegal and a blight on the community. We need the help of our residents to be vigilant and report it to us via our website."
Alleyways proved the most problematic areas for the Fylde coast last year, with rubbish found strewn behind houses accounting for over 70 per cent of reports in both Blackpool and Wyre – 78 per cent and 72 per cent respectively.
Environmental charity Keep Britain Tidy said the crime was being driven by conmen, who offer to remove household rubbish for a fee but dump it illegally.
On some occasions enough waste was dumped to fill tipper lorries – costing local authorities significant amounts to remove.
Some £17,250 was forked out by Blackpool Council after lorries were tasked with clearing fly-tipped items 138 times.
Tippers were needed 19 times in Wyre, costing the council £6,300, but in Fylde just one lorry was required, costing £150.
A spokesman for Wyre Council said: "Fly tipping can easily be avoided if we all follow the SCRAP rules, suspect all waste carriers, check their registration details, refuse unexpected offers to take waste, ask what will happen to your waste and paperwork should be obtained.
"Last year, our Cleaner Greener Project officer, worked with residents who were fed up of fly tipping taking place and wanted to take back their alley – the results were outstanding and the group were shortlisted in the National Keep Britain Tidy Awards.
"We would like to support more residents who are committed to making a difference with their neighbours by transforming other alleyways when Covid regulations allow.
"Wyre Council continues to engage, advise and take enforcement action where necessary to prevent this, but we really need the support of local people to step forward and speak up when they see fly tipping."
Fylde Council did not respond to a request for comment.