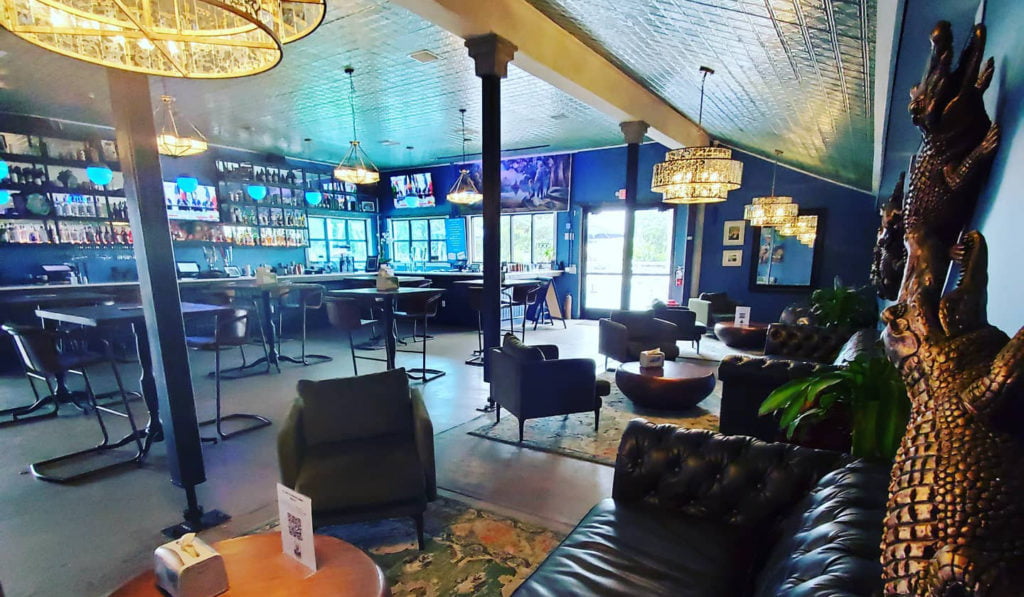 Historic Downtown Sanford is one of my favorite places for date night with my husband. This charming destination has bloomed in the past few years. It has one of the largest collections of breweries in all of Central Florida, plus ice cream shops, antique shops, a bounty of fun bars, unique events and so much more. And, one of the latest spots to join this impressive collection is Henry's Depot.
This food hall is home to so many unique spots that it's the ideal place for a progressive food crawl. Even better, you can cap it off with a round of drinks at a Florida-themed bar.
Other fun happenings include Sunday brunch and periodic events like indie markets and intimate concerts. Sound like a great date spot? It sure is! Here's what you need to know for planning a Henry's Depot food crawl date.
Henry's Depot Sanford Food Vendors
Mahogany Coffee
The Basin
Dixie Dharma
Salvatore's Prime Sandwiches
Current Seafood Counter
What the Chuck Burgers
Oak Flame Pizza
From the list above, there's something for everyone. You can view the menus of each vendor online, and some places, like Dixie Dharma, offer online ordering.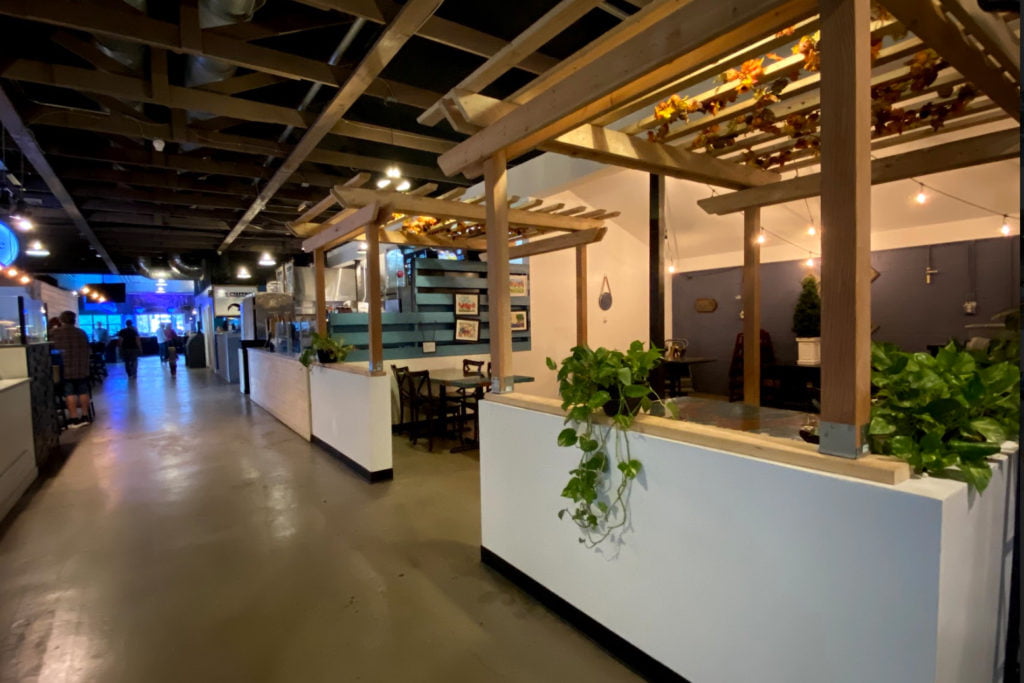 Food Crawl Itinerary
Snacks + Apps
I suggest starting with a snack or appetizer from Dixie Dharma, such as their Crispy Brussels, Mac n' Cheese, or Pecan Maple Sweet Taters. You'll also find a nice selection of appetizers on the menu at Oak Flame Pizza, including garlic cauliflower or pizza rolls.
Main Course
For the main course you can't go wrong with What The Chuck Burgers, Oak Flame Pizza, Salvatore's Prime Sandwiches, or Current Seafood Counter.
During our visit, my husband ordered the Tennessee Truffle Burger from What The Chuck with pimento cheese, crispy onions, and smoked kale. This burger, and the fries that came with it, is now in my top 10 for best burgers I've ever had. I'm so glad my husband let me sneak a few bites.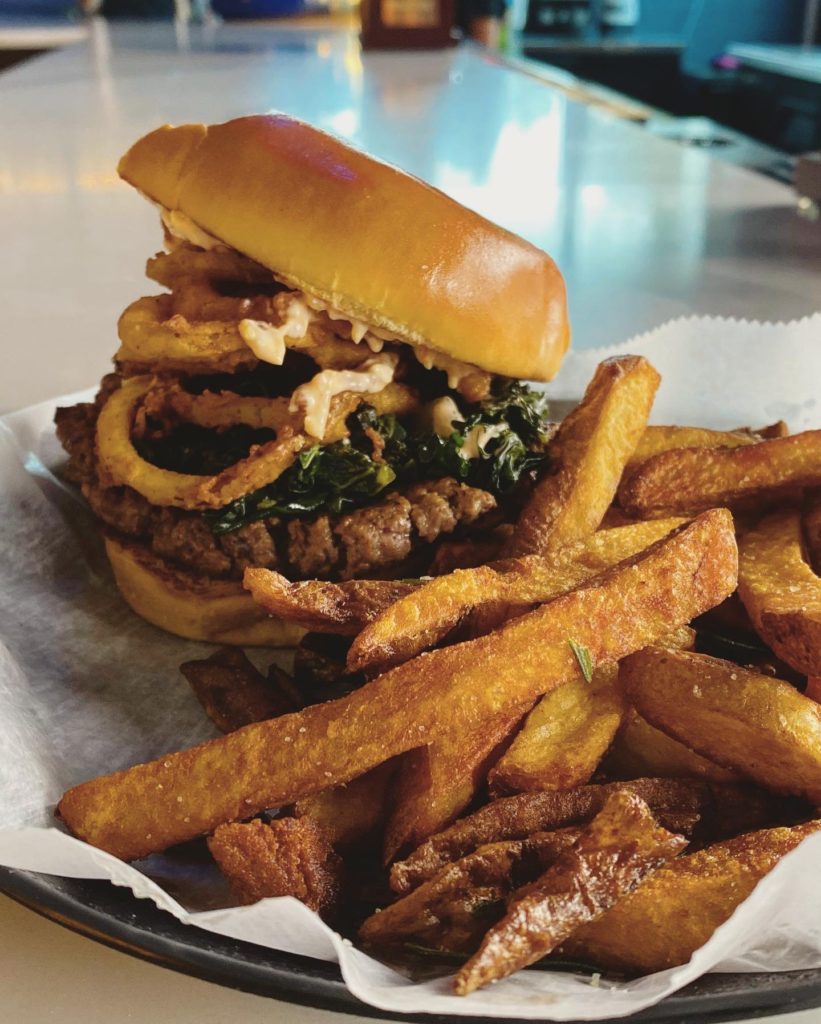 Our toddler son came along with us, and he can't eat dairy, so when I saw that Oak Flame Pizza has multiple vegan options, I was ecstatic. We went with the Vegan Velocity Pizza with plant based sausage, cashew mauxarella, broccolini, tofu ricotta and chili oil. I couldn't believe how delicious it was. I had about half of the pizza, my toddler son had about three slices, and my husband was able to have one slice. It could fool anyone who didn't know this pizza was vegan. We'll be back for this pizza and to try some of their other vegan options too.
The regular pizzas looked and smelled delicious. Each pie is made to order. You'll be notified via text when your order is ready, leaving you free to explore while you wait.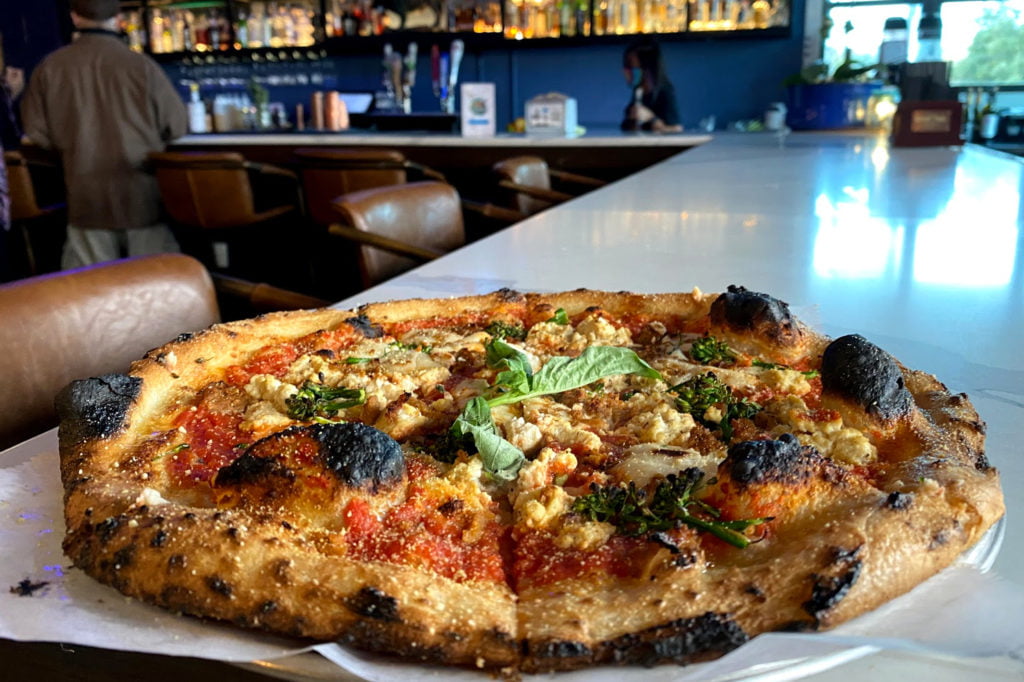 The delicious deli sandwiches at Salvatore's Prime Sandwiches travel pretty well, so if you don't want to miss out on giving them a try, consider ordering one to take home.
When we arrived at 11am, Current Seafood Counter was not yet open, but the menu looked wonderful and their selections change based on what is fresh that day.
Drinks
Next, take your food and head to The Basin to grab a craft beer or handcrafted cocktail. This beautiful Florida-themed bar is the anchor of Henry's Depot. It is at the back of the building with lots of lounge seating inside and a back porch outside. There's even a little herb garden out back which produces fresh herbs for the delicious cocktails on the menu.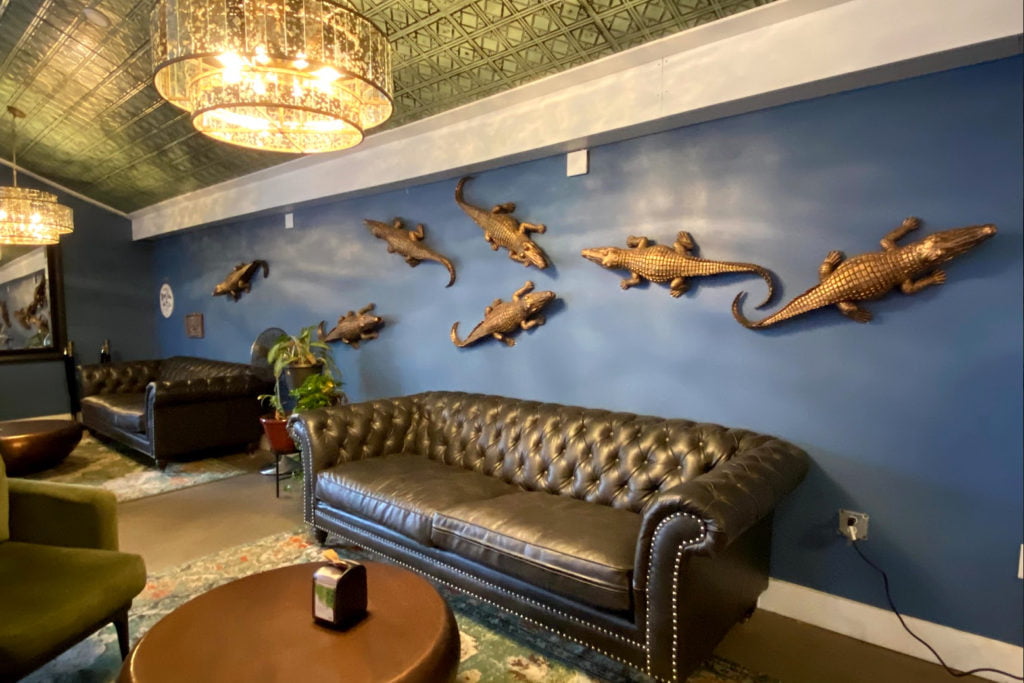 Tip: You can take advantage of the lounge seating to enjoy your food from Henry's Depot vendors with your drink. I opted for the Mermaid Tail with Green Tea Vodka, Lavender, and Lemonade. It suited my desire for a refreshing cocktail that wasn't too heavy or too potent.
As we sat down at The Basin, devouring our burger and pizza, my husband and I looked at each other with grins on our faces. We'd found a new favorite spot for date night or a wonderful family outing together. We found a new home at Henry's Depot.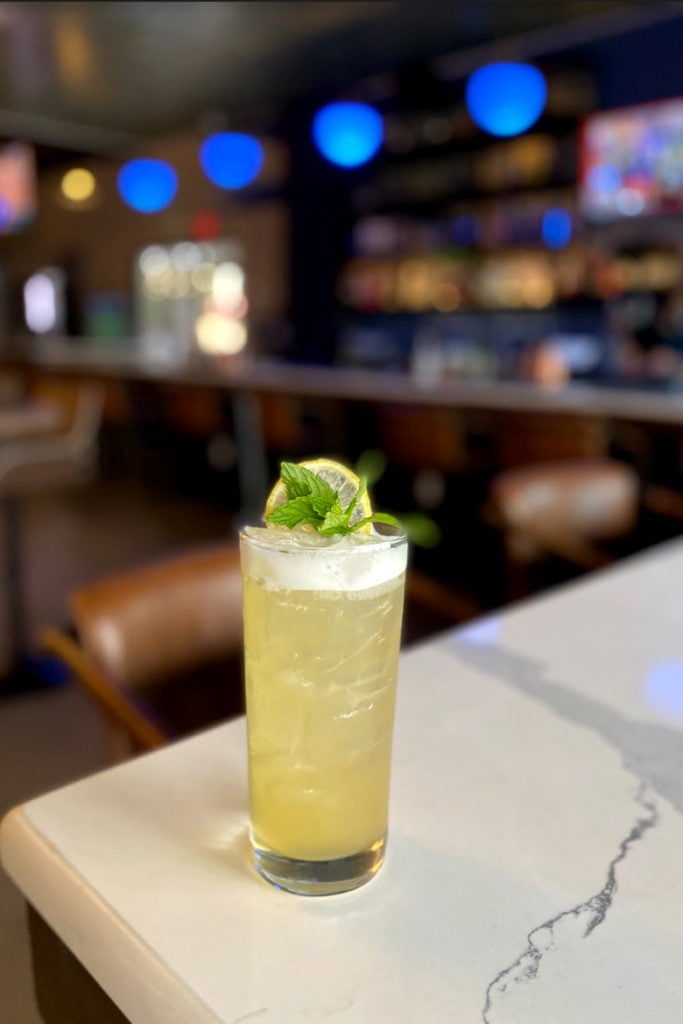 End with Something Sweet
For dessert, we couldn't resist The Greenery Creamery. I've been to the original downtown Orlando location and was excited when I heard the news that they had opened a location in Henry's Depot.
The Greenery Creamery offers vegan ice cream as well as dairy ice cream. They are known for their delicious, high quality ice cream in traditional and creative flavors. The vegan Lemon Poppy Seed ice cream and the Blueberry Lavender ice cream were loved by my son and myself. My husband ordered a Cookies n' Dream Milkshake that was vegan as well, but it was so creamy and flavorful it could easily be passed off as a dairy milkshake.
Other sweets can be found at Oak Flame Pizza and Dixie Dharma (plant based).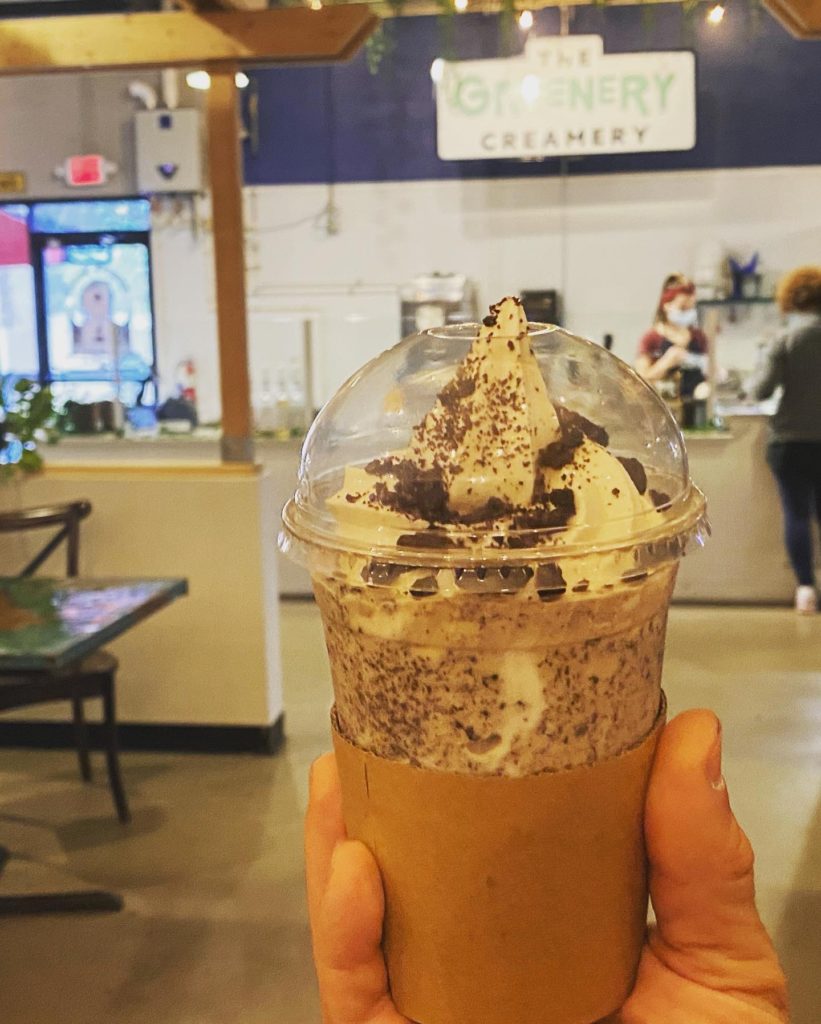 Henry's Depot Details
Henry's Depot is built at the site of the original Sanford train station. Find it at the top of 1st Street, which runs through the heart of Downtown Sanford. There is seating throughout the venue inside. There is also a back porch that is part of The Basin, and there are some tables on the side of the building as well. Restrooms are located near The Basin.
There is live music at The Basin on specific nights, and specials on certain days. Mondays offer happy hour pricing on select drinks as well as special pricing for select food items at What The Chuck and Oak Flame Pizza. On Sundays, brunch kicks off at 10am and features food and drink specials.
Henry's Depot
212 W 1st St
Sanford, FL 32771
Open daily, visit henrysdepot.com for current hours
Feature image credit: Henry's Depot
All other images by Dani Meyering