TAP Air Portugal is the flag carrier airline of Portugal with a hub in the capital of Lisbon. TAP is a member of the Star Alliance and services several U.S. cities, which allows for connections via Lisbon to the rest of Europe, Africa and beyond.
This guide to TAP Portugal will cover the details of the airline, how to earn TAP Portugal Miles&Go airline miles, sweet spots for redeeming miles and everything else you need to know before you go.
About TAP Portugal
Here's a quick overview of a few key features.
Fare types: TAP Portugal flights come in just two classes — economy class and executive class (business class). It doesn't currently offer a first class cabin. TAP Portugal doesn't have a true premium economy cabin either, but some economy class flights have been unbundled so travelers can pay extra for seats with additional legroom (EconomyXtra).

Main U.S. routes: TAP Portugal's main hub is in Lisbon. TAP Portugal flies from Lisbon to Boston, Chicago-O'Hare, Miami, Newark, New York-JFK, San Francisco and Washington-Dulles. TAP Portugal also flies from Newark to Porto, Portugal.

Points currency and loyalty program: TAP Portugal's frequent flyer program is called Miles&Go. You can credit Star Alliance flights to Miles&Go and use miles to book flights on Star Alliance and other partners.
How to earn TAP Portugal Miles&Go miles
Earn by flying
You can earn Miles&Go miles by flying on TAP Portugal and entering your Miles&Go membership number to the itinerary information. On TAP Portugal flights, you earn miles based on a percentage of flown miles, ranging from 10% for the lowest discount economy fares to 200% for top executive fares.
Nerdy tip: If you're flying one of the cheap economy fares, you're likely to be much better off crediting the flight to a Star Alliance partner rather than earning 10% of flown miles with TAP Portugal.
You can also earn TAP Portugal Miles&Go miles by flying on Star Alliance or other TAP Portugal airline partners when entering Miles&Go membership information at booking. The number of Miles&Go miles earned varies by each partner and can be checked on TAP Portugal's Earn Miles page.
50% of miles flown on economy fare classes V, W, S, T, K, L, E, U.

100% of miles flown on economy fare classes Y, B, M, H, Q.

200% of miles flown on business/first fare classes C, D, Z, F, A, P.
With United's move to earning miles based on the cost of your ticket, you may find that you'd earn more miles by crediting your United flight to TAP Portugal Miles&Go.
Earn by transferring
Currently none of the four major transferable currencies (Chase, American Express, Citi and Capital One) transfer to TAP Portugal Miles&Go. However, Miles&Go is a transfer option for Marriott Bonvoy points, and that can be a reasonable choice if you have a stack of Bonvoy points to use.
Marriott Bonvoy transfers to many different airlines at a rate of 3 Bonvoy points to 1 airline mile. If you're transferring Bonvoy points, it makes sense to transfer in blocks of 60,000 points since you'll earn a 5,000 airline-mile bonus. In essence, 60,000 Marriott Bonvoy points can become 25,000 TAP Portugal Miles&Go airline miles.
Other ways to earn
Buying miles: TAP Portugal typically sells miles at a rate of 4.35 cents per mile (not a good value). However, it regularly runs promotions where you can buy Miles&Go miles for under 1 cent per mile, which can be a good value.

Club TAP Miles&Go: Club TAP Miles&Go is a subscription service that allows you to pay upfront to earn Miles&Go miles each month for a year. It also often offers promotions where you can earn bonus miles or even elite status.

Partners: TAP Portugal has a wide array of different partners that allow you to earn Miles&Go miles by shopping, staying at hotels or booking car rentals.

Gifting miles: You can buy and gift miles to a Miles&Go account that isn't your own at a rate of about 1.25 cents per mile.
Nerdy tip: There isn't currently a U.S.-based credit card that earns TAP Portugal Miles&Go miles.
How to redeem TAP Portugal Miles&Go miles for good value
Fly TAP Portugal
TAP Portugal publishes an award chart, and it costs 29,000 Miles&Go miles for one-way flights from the U.S. to Europe. The airline's executive class (business) runs 100,000 miles one way from the U.S. to Europe.
As with any redemption, check the cash price of the flight versus the number of miles required to pay. When cash prices are high (peak travel times, holidays, etc.), you'll get good value out of your TAP booking thanks to the award chart.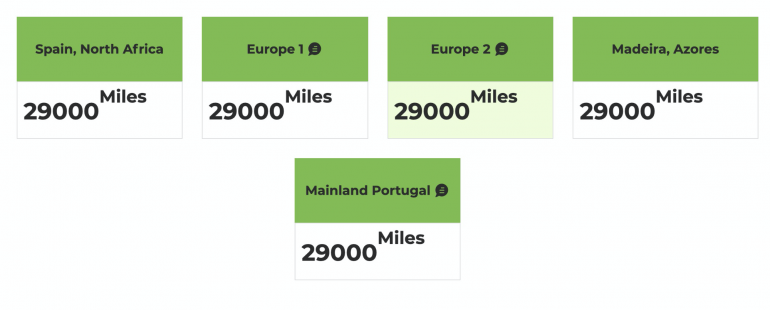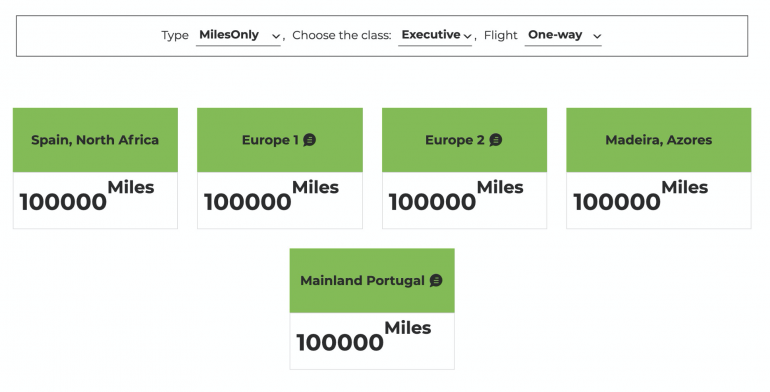 Fly a partner airline
Here are the award chart values for Star Alliance partner flights, originating from North America, which start at 30,000 miles one way.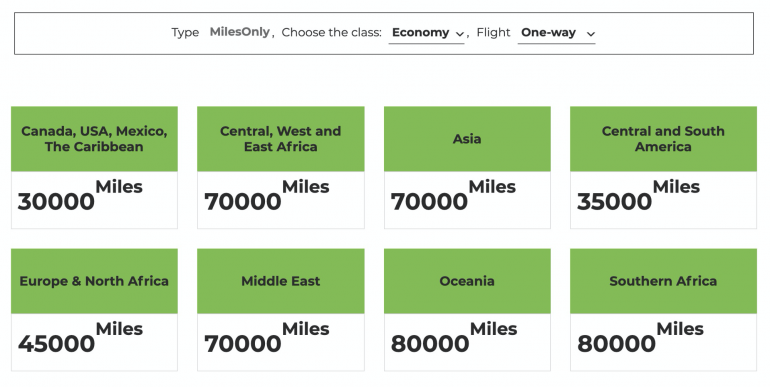 The Star Alliance partner executive class redemptions start at 45,000 miles one way.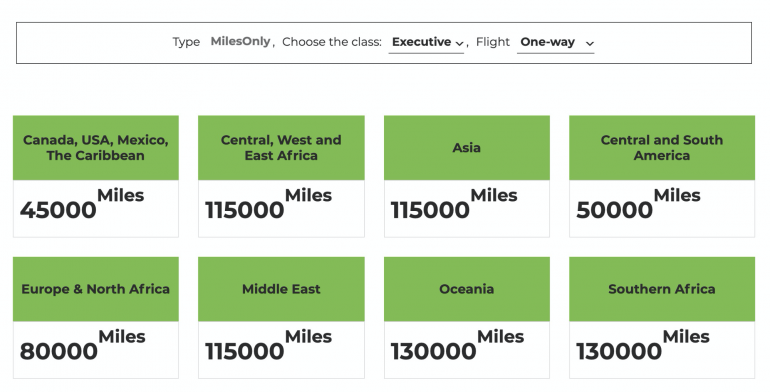 You can book award flights for TAP Portugal, as well as with Star Alliance partners, on TAP's website. For other nonalliance partners, such as GOL, Emirates or Azul Airlines, you'll have to call in to redeem Miles&Go miles.
pro tip: Double-check the cost of partner award bookings
Note that TAP Portugal charges fuel surcharges on some partner redemptions, so you need to pay close attention to your options to avoid paying a lot of cash out of pocket.

A Lufthansa flight between Newark and Frankfurt International Airport booked with Miles&Go points can cost $755.60 on top of the 80,000 miles, compared with the Air Canada flight between the same destinations that charges only $36.60 in required taxes and 80,000 Miles&Go miles.
A rate of 80,000 miles for a one-way flight between the U.S. and Europe in business class isn't a spectacular deal, but when you couple that with how cheap it can be to buy TAP Portugal Miles&Go miles during a promotion, it may make for a better deal.
Other ways to redeem
What else can you do with my Miles&Go miles besides fly on TAP Portugal and partner flights? You can also:
Upgrade flights: TAP Portugal allows you to use miles to upgrade any flight. It's as few as 68,000 Miles&Go miles to upgrade to executive class from the U.S. to Europe

Purchase round the world tickets: TAP Portugal also offers a round the world ticket (up to 10 flights) for 250,000 miles in economy or 350,000 miles in executive/business class.
TAP Portugal's elite status program
TAP Portugal has only two elite status levels — Silver and Gold. Here's how these statuses compare:
| | | |
| --- | --- | --- |
| Star Alliance partner elite status | | |
| | 70,000 status miles or 50 flown legs with TAP | 30,000 status miles or 25 flown legs with TAP |
| | 50,000 status miles or 40 flown legs with TAP | 20,000 status miles or 15 flown legs with TAP |
| | | |
| | | |
| | One extra complimentary piece of checked baggage on TAP / Star Alliance flights | |
| Economy Xtra seat upgrade for no additional charge | | |
TAP Portugal also offers a status match program for frequent flyers who hold elite status with other airlines. This can be a way to cut down the number of miles or legs required to earn TAP elite status.
Bonus tip: Take advantage of free stopovers in Portugal
TAP Portugal also offers a stopover program where you can get a stopover in Lisbon or Porto at no additional cost. You can stay from one to five nights in either location. This is a great way to extend your trip and see another destination.
If you fly TAP Portugal this year
While the Miles&Go mileage program doesn't have an outstanding award chart, it's tempered by the fact that, during promotions, you can often buy miles very cheap. If you can reliably purchase miles for less than 1 cent per point, you can get affordable award flights even if cash prices are high. Plus, you can find some deals on the promotions page.
How to Maximize Your Rewards