Monday, April 18th 2022, 8:10 am – A wintry system threatens 5-10 cm of snow across parts of southern Ontario and Quebec through Tuesday.
A complicated and late-season wintry storm threatens some tricky travel across parts of Ontario and Quebec into Tuesday. The messy system will move in to start out the week on Monday, with the chance for some accumulating and shovelable snow — no small feat for this late in April. Winter weather travel advisories line sections of southern Ontario, warning of reduced visibilities and slick surfaces such as roads and sidewalks. More on the timing and impacts expected, below.
MONDAY INTO TUESDAY: MESSY WINTRY STORM PUSHES SNOW ACROSS CENTRAL CANADA
A dynamic pattern sweeping across the eastern half of Canada and the United States will lead to a complicated and wintry set-up for Ontario and Quebec over the next couple of days.
A tricky storm track and delicate temperature gradient will mean the difference between a dreary rain and a shovelable snow for just about everyone between Windsor and Quebec City.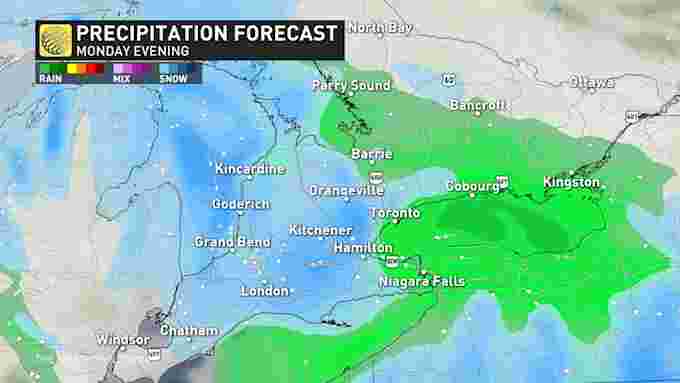 The system begins to push into southern Ontario Monday afternoon, bringing increasing cloud cover through the day with precipitation breaking out from west to east across the region.
Lower elevations and areas near the lake will see a mix of rain and snowflakes, with the chance for a bit of snow accumulation on elevated or grassy surfaces. But higher elevation areas, including the Niagara Escarpment, will see marginal temperatures tip below the freezing mark, allowing for more significant accumulations of 5-10 cm to pile up.
"The most significant commute impacts across the Greater Toronto Area will likely be Monday evening, with wet roads and the risk for icy ramps and overpasses," warns Michael Carter, a meteorologist at The Weather Network. "The snow that will stick will be more likely for north and westbound travelers moving into the higher elevations."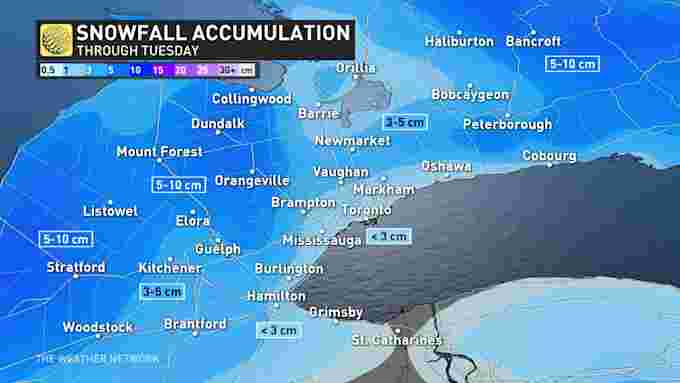 Environment and Climate Change Canada (ECCC) issued a winter weather travel advisory for sections of the south, with the threat for significantly reduced visibilities in heavy snow, and snowfall rates peaking up to 3 cm per hour. Drivers are urged to adjust to the changing road conditions, and to take extra care when walking or driving in affected areas.
Flurries and gusty winds will linger through Tuesday as well, leading to periods of low visibility and changing conditions.
A stronger, secondary low will develop later Monday, tapping into deeper moisture and bringing more significant impacts to parts of Quebec through Tuesday.
Montreal may see 5-10 cm of snowfall, with the higher terrain outside of the St. Lawrence Valley seeing 10-20+ cm through Tuesday.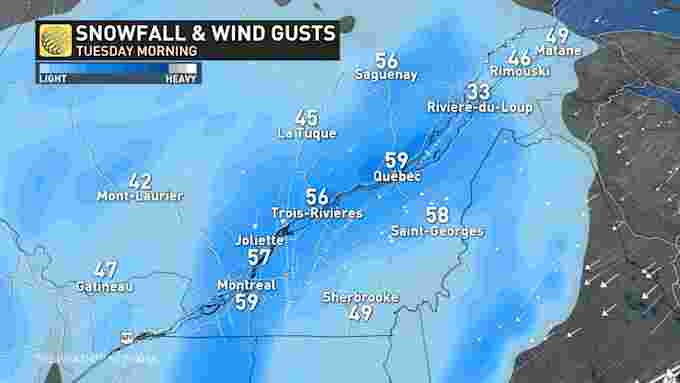 This will be accompanied by gusty winds, leading to periods of hazardous winter-like travel conditions.
There may even be some ice pellets for the extreme sections of eastern Quebec in the afternoon Tuesday. Precipitation will begin to wind down in the province from west to east through the evening and overnight.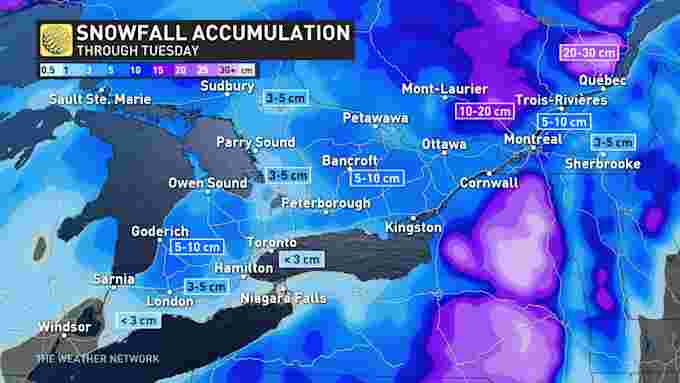 Tuesday will see lingering light snow across southern Ontario that should subside through the morning hours. Sporadic showers may be prevalent in parts of cottage country and eastern areas in the afternoon, before diminishing in the evening.
Looking ahead, another system could affect the region by Thursday morning before temperatures moderate toward the end of the week.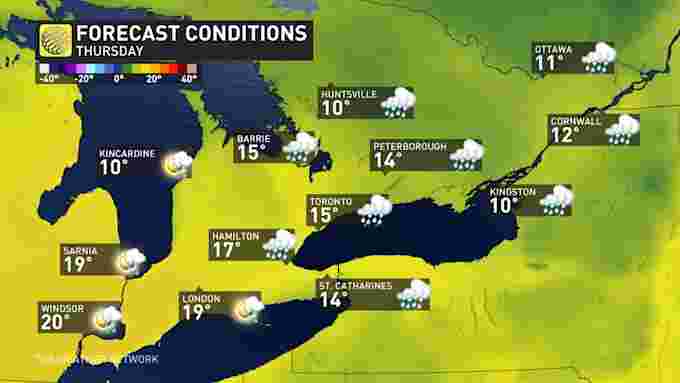 We're watching the potential for a few days of warmer weather during the final days of April, but a cooler pattern is expected for early May as a blocking pattern is expected to rebuild.
Stay tuned to The Weather Network for the latest forecast updates across Central Canada.