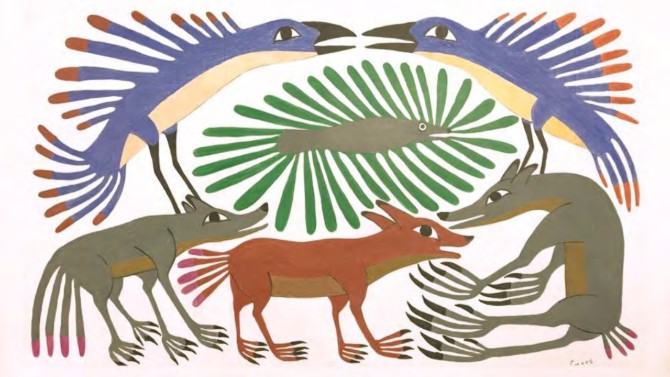 A travelling exhibition featuring work by iconic Canadian Inuit artist Kenojuak Ashevak is coming to Sudbury, Ontario in January, marking an important cultural event for the southern Canadian city, say organizers.
"I can't even begin to tell you how excited we are about this exhibition," said Demetra Christakos, the director and curator of the Art Gallery of Sudbury, where the show Kenojuak Ashevak: Life and Legacy will take place.
"We have a long tradition of featuring Inuit art and working with Inuit curators and because of that there's a huge affection for this work in our region."
Exhibition features previously unshown work
Kenojuak Ashevak: Life and Legacy was first mounted at the Kenojuak Culture Centre after it opened in 2018 in Ashevak's home community of Cape Dorset.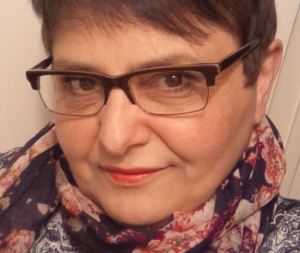 The 31 drawings and three prints that make up the show are from the archives of the West Baffin Eskimo Cooperative, the local co-op established in the community in 1959. The works had not previously been formally exhibited.
The images are accompanied by objects and anecdotes related to Ashevak's work and contributions, items that were contributed by Cape Dorset community members.
Christakos says exposing visitors to the little-seen works will help deepen appreciation for Ashevak's iconic graphic imagery.
"This is a rare opportunity for us to have original drawings," Christakos said in a phone interview. "We'll be painting the walls white and doing a very contemporary installation that will have a real visual impact."
Trailblazing artist
Kenojuak Ashevak (1927-2013) lived most of her life in Cape Dorset, an island community of approximately 1400 people, off the southwest coast of Baffin Island in Canada's eastern Arctic territory of Nunavut. 
Her career spanned decades and her iconic images depicting Arctic animals and wildlife came to define a generation of Inuit artists living and working in the North. Her work almost single-handedly came to define Arctic art both in Canada and on the world stage.
Eye on the Arctic Feature Interview
Kenojuak Ashevak speaks with Eye on the Arctic's Eilís Quinn in 2010 in Cape Dorset, Nunavut.
Kenojuak Ashevak was part of the first generation of artists to come through the Cape Dorset print program. The program's roots go back to the 1950s when Canadian artist James Houston moved to Cape Dorset and taught local Inuit how to draw and make prints of Arctic nature and Inuit life.
Starting in 1959, the prints produced in Cape Dorset were released in an annual collection. They became a hit in the art world and a favourite of collectors. 
Understanding landscape
Christakos says Ashevak's work is a window into the Arctic environment, but that her work also resonates so powerfully elsewhere in Canada, including places like Sudbury, because of its depictions of nature and wide open landscapes.
"Kenojuak Ashevak's focus on the nature of the Arctic has such a great resonance with our experience," Christakos said. "Just the basic symbolism of her work calls forth in such a powerful way the flora and fauna of our region in a way you can't help but respond to."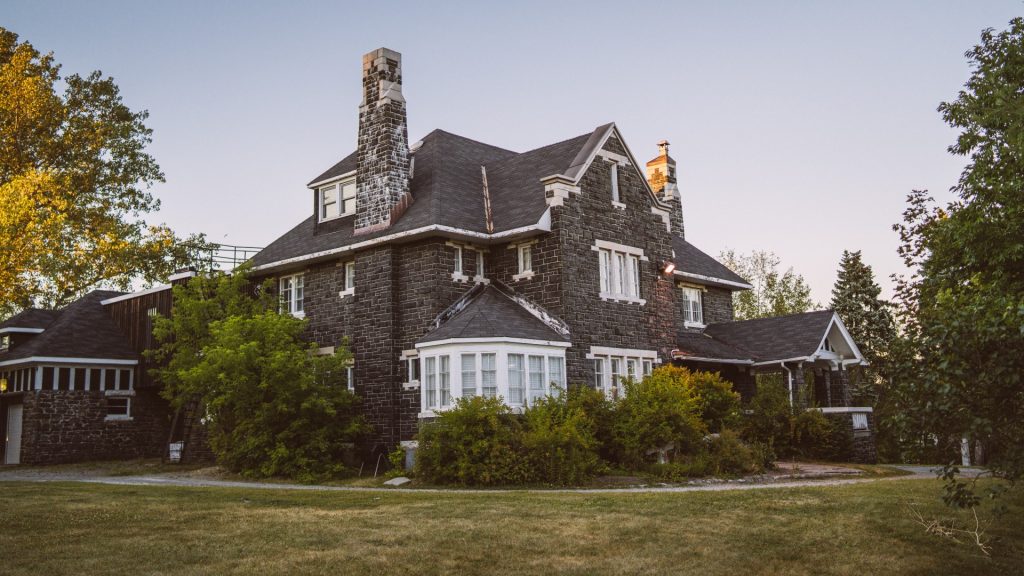 Kenojuak Ashevak: Life and Legacy will run at the Art Gallery of Sudbury from Jan 21 to March 28. 
Bookings can be made on the Art Gallery of Sudbury website starting in January.
The exhibition will travel Canada until 2022.
Write to Eilis Quinn at Eilis.Quinn(at)cbc.ca
Related stories from around the North:
Canada: New ebook explores life and legacy of Canadian artist Annie Pootoogook, Eye on the Arctic
Finland: Sámi-themed Finnish short film makes Sundance lineup, Yle News
Greenland: `Enough of this postcolonial sh#%' – An interview with Greenlandic author Niviaq Korneliussen, Eye on the Arctic
Iceland: Icelandic artist Olafur Eliasson lights up London's Tate Modern, Blog by Mia bennett
Norway: Walt Disney Animation Studios to release Saami-language version of "Frozen 2", Eye on the Arctic
Russia: Russia's Arctic culture heritage sites get protection, The Independent Barents Observer
Sweden: Sweden, Norway team up to preserve ancient rock carvings, Radio Sweden
United States: Set of Indigenous Yup'ik masks reunited in Alaska after more than a century, CBC News